Photographer – Jake Terrey at The Artist Group
Stylist – Thomas Townsend
Models – Matilda Dods at IMG and Nya Leth at KULT
Creative Direction/ Artist – Amy Finlayson of The Fin Collection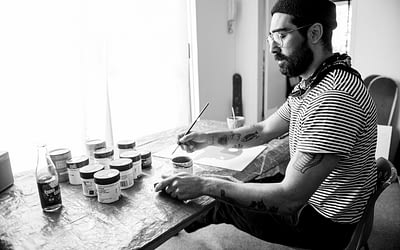 Nick Hernandez.Nick! We have known each other for quite a few years now and I am so proud to say I have seen your work transition, grow and elevate over time. How do you feel about the journey your process has taken and is this a reflection who you are as a person?...
On painting as a new father, discussions about Mother Earth and the rebirth of artworks though his unique process.
#TidalAtTuchuzy curated by Amy Finlayson