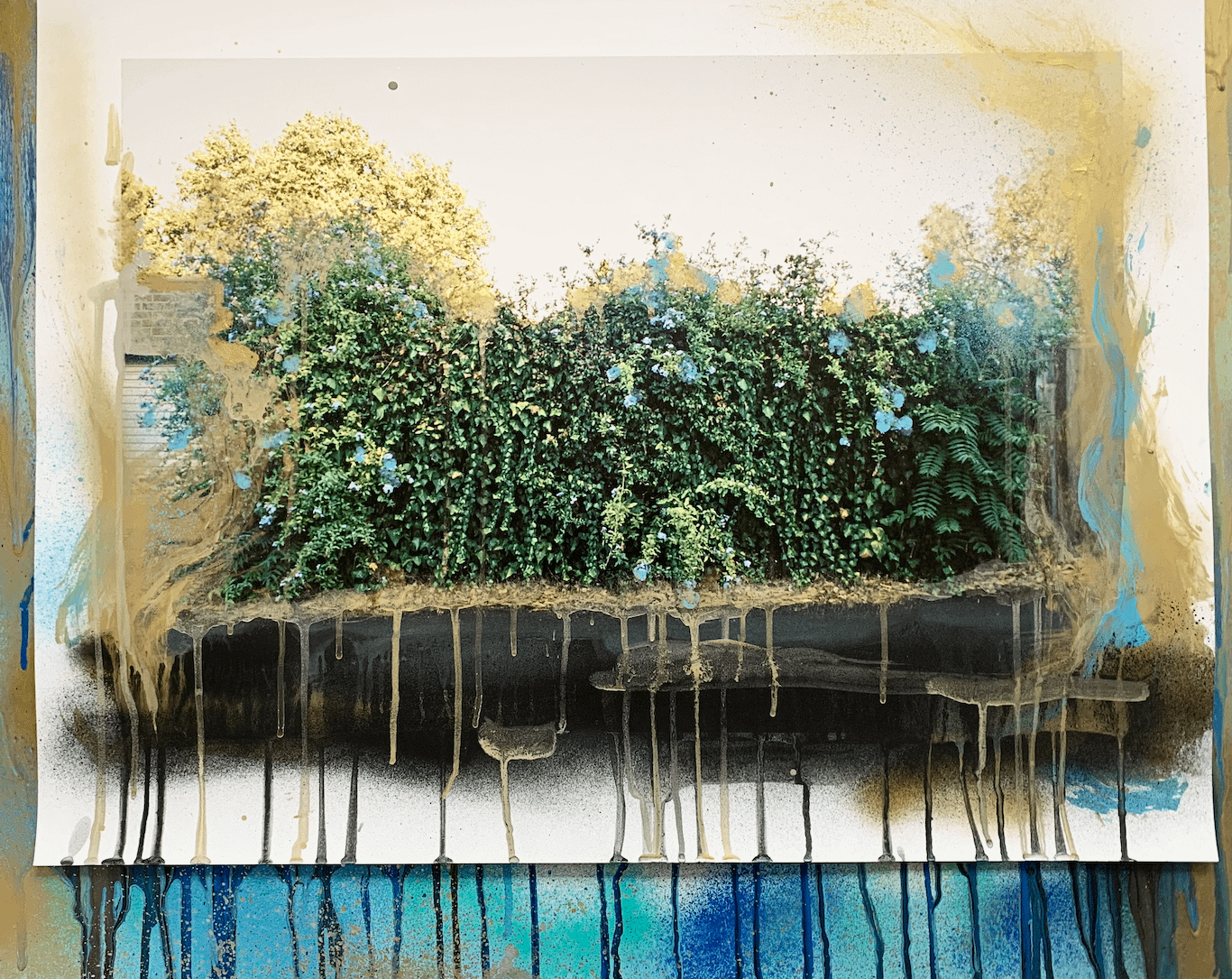 The neutral background something bigger. A literal backdrop for growth.
The holding place before a journey of epic proportions.
I Like Your Accent (2020) will be Amy Finlayson's second ever solo exhibition with all imagery and artworks produced by the artist. 
Printed on fine art paper, film photography and paint application gently imitate her first love of screen printing whilst propelling old school techniques into a modern realm. Vibrant high flow acrylic color is used for expressive mark making, whilst also being decompressed from spray cans usually reserved for graffiti and repurposed as a medium for luscious and messy prints that energetically dance around the landscapes.
Notions of suburbia and growing up in Perth, Western Australia have greatly shaped the outlook of this body of work.
"We grew up playing in the laneways around my suburb in Perth. It was a level playing field, empty of judgement, free of cares and lacking in the disparity and materialism that seems to claim adult life. These were the best of times. These were the simple times. No matter what car was parked in your parents' garage, no matter the facade of the front of your house- we were all equal in this environment."
She combines her past, present and future into a collection of dynamic and contemporary works. Each piece is a modern take on the iconic cultural landscape we perceive daily and will fit perfectly in a collection representing this new wave of contemporary artists carving a niche for themselves all over the world.
"I have many associations around Australian suburbia and growing up in a landscape that both fostered my creativity yet urged me to look to a bigger picture, a greater landscape, a greener pasture. The truth is I would not or could not be the person I am today without the somewhat omnipresent backdrop that subconsciously and subliminally shaped my being- as I am sure it probably shaped yours."
With creative inspiration from the godfather of the nostalgic look at Australian suburbia, Howard Arkley, Finlayson's inspiration has also come from international contemporary trailblazers such as Katharina Grosse and fellow Perth born expat Ian Strange.
*I Like Your Accent= An acceptance and appreciation of  nuances and difference whilst trying to convey the same meanings, just like the garages and suburban landscapes pictured.
With thanks to the following supporters and sponsors:
Montana Colours Australia @mtnaustralia
Amarisco Framing @amarisco.framing
Sun Studios Printing @sunstudios
ALL WORKS CURRENTLY UNFRAMED WITH PERSONALISED FRAMING OPTIONS AND ASSISTANCE AVAILABLE VIA EMAIL AT INFO@THEFINCOLLECTION.COM
PRE CHRISTMAS DELIVERY AND COLLECTION ALSO AVAILABLE VIA EMAIL AT INFO@THEFINCOLLECTION.COM
The latest (very French) hang for the recently hatted Lou Lou Bistro in Milsons Point, Sydney.
The latest (very French) hang for the recently hatted Lou Lou Bistro in Milsons Point, Sydney.
The Fin Collection is proud to announce the acquisition and curation of artworks for The Charles Bar and Brasserie in Sydney's CBD.