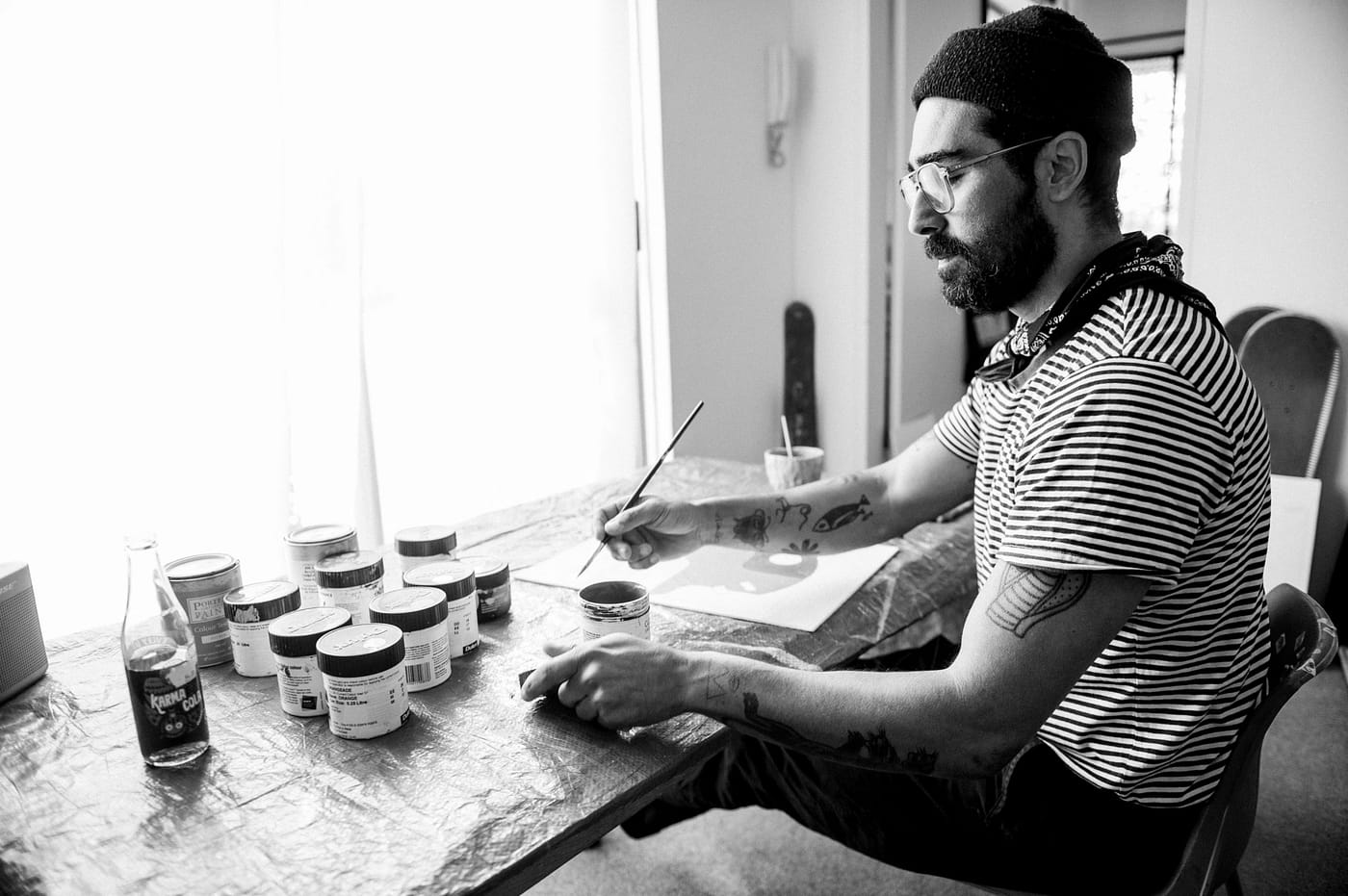 Nick! We have known each other for quite a few years now and I am so proud to say I have seen your work transition, grow and elevate over time. How do you feel about the journey your process has taken and is this a reflection who you are as a person?
Amy, time has flown by! But you still look as stunning as the day I met you x. My art has evolved and I am happy with the direction it's been heading in. As a reflection as to who I am? Well, initially my art was raw, but with potential. But like any craft or sport you take on, you need to persist, practice and have fun with it. My life is like this, I never had aspirations for the ideal life, I enjoyed life. I worked, I played. And in the playing I found my voice, thru art. I have become more content with where I am at this stage of my life, I'm not fighting the current and in doing so, I'm finding a relaxed and in tuned expression.
Your use of bold block colour and shapes lends itself well to great murals, expansive walls and large commissions. However, your smaller canvases are brilliant in their intimacy. Which do you prefer and why?
I really enjoy painting both sizes. The small obviously is where the mural starts. In the small canvases, I get to play with shape, colour and space. And because I paint in block colours, when the opportunity to paint a mural presents itself, the transition is seamless.
Colour is obviously a huge part of your work, with all of your pieces full of vibrant hues, close to the landscape of Australia. Why does your home and where you're from permeate your work in such a way?
I guess my connection to colour has been a language, a communication that I understand and translate. Its sub conscious and always has been. Colours have an emotion, and understanding that, helps get the message across. colour is therapy.
You have a beautiful little girl, the lovely Mabel. Do you think your work has changed as she grows? Does her outlook on life and raising her effect how you also see the world and subsequently your work?
I love my Mabel! My work has changed as she has grown. My relationship with Mabel is on the same page. I'm a day dreamer and she is a day dreamer. I want her to be herself and do what her heart desires. My art is my expression, I paint for me, if someone likes it, then that's a bonus.
Does your daughter draw? How do you think creativity is beneficial for her upbringing? 
Mabel draws a lot! I love that she asks me questions about my art. I like that she sees what I do as something that I enjoy and that is the approach she has inherited. She is constantly wanting to craft. She is very inventing and passionate. I love seeing her blossom in this realm.
In today's climate, with COVID, #BLM, political uncertainty and financial turbulence, why do you think art is so important?
Art is everywhere. In nature, architecture, in food, in music, in dance and on walls. We need to express ourselves as beings. Art, A colour, a sound, a picture, anything like this creates a reaction, an impulse. something that you resonate with, something that makes you feel good inside. if art can help you/us in this world, then take it, grab it and cherish it.
I always find the names of yours works so poignant. Can you tell us a little more about these- especially the two pieces you had in my last group show, #TidalAtTuchuzy?
When I paint, I don't have a series title, I just see what comes out. I do the outline, I sometimes think, what's this doing? Is it going to work? then I add colour, and it slowly comes together. In that process, the painting begins to grow a personality. That's when the title comes to me. My art is block colours; my titles become a small story.
For all those that haven't had the pleasure of seeing them, can you please explain the dace videos?
Ok, so the world had stopped, my work had stopped, everything was still. Who knew what was going to happen in the future? So, I just thought, I need to dance! Dance is ancient and a connection to storytelling in native tribes. My dancing was my way of telling the story of, if you are going to go, go with a pep in your step
Last but not least- what's your motto in life?
Motto? Love yourself, respect and enjoy life.x
Follow Nick Hernandez
@chocolateeinstein
The latest (very French) hang for the recently hatted Lou Lou Bistro in Milsons Point, Sydney.
The latest (very French) hang for the recently hatted Lou Lou Bistro in Milsons Point, Sydney.
The Fin Collection is proud to announce the acquisition and curation of artworks for The Charles Bar and Brasserie in Sydney's CBD.